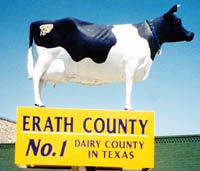 General-
Seat of Erath County, Began in 1850 with settlement by the Stephens brothers in area; one, John donated original town site. Among several industries is one of the largest tree nurseries in the Southwest. The area is the state's leading producer of popular Coastal Bermuda range grass and Erath county is one of the state's largest dairy producers.
Texas A&M University - Stephenville Research & Extension Center
Historical House Museum Complex-
Includes 1869 Victorian house with period furnishings and items of area history. Also, carriage house, reconstructed log cabin (circa 1854), 19th Century church.
Open Friday - Sunday, 2 - 5 p.m.
525 East Washington Street. Admission.